When a Cardinal appears in your yard it's a visitor from Heaven etched glass LightBox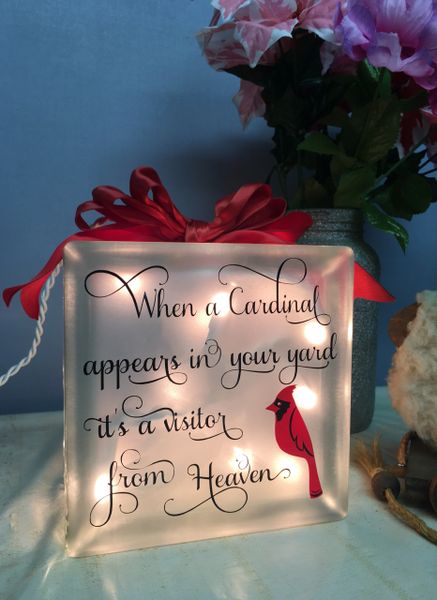 When a Cardinal appears in your yard it's a visitor from Heaven etched glass LightBox
A cardinal is a representative of a loved one who has passed. When you see one, it means they are visiting you. They usually show up when you most need them or miss them. They also make an appearance during times of celebration as well as despair to let you know they will always be with you. Look for them, they'll appear.
These unique nightlights are carefully handcrafted for you in Georgia. Each one is designed and handcrafted expertly by Janice Lam, a Georgia artist that has won Best of Show for some of her creations, and been in Creative Business Maven magazine. 
Bring Love and Life to your home this year with this gorgeous custom Glass Block! I will create for you a glass block with the lovely saying "When a cardinal appears in your yard it's a visitor from Heaven". Each block will be topped with Red Bows (default) unless another color is specified.
The LightBox is etched on the front and inside is a string of 20 electric lights. You have your choice of red text or black text. The LightBoxes come in 2 sizes 6x3x6 or 8x3x8.
************************************************** 
Join my Facebook group and be the first to know about sales, new LightBoxes, and discounts! LightBoxGifts
**************************************************
Do you have a custom saying or wording you would like to see on a LightBox? Email me at lightboxgifts.us@gmail.com for price and info! Thanks for looking!