Ladybugs appear when Angels are near etched Glass block, memorial home decor memory blocks birthday anniversary, ladybug lady bug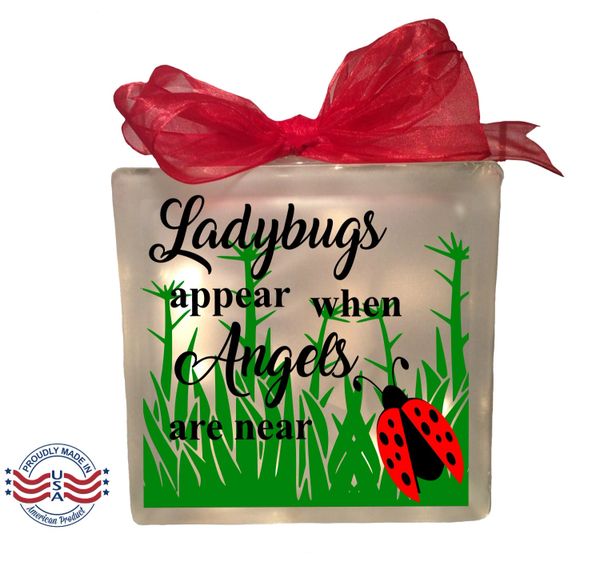 Ladybugs appear when Angels are near etched Glass block, memorial home decor memory blocks birthday anniversary, ladybug lady bug
The appearance of a Ladybug heralds the appearance of a lost loved one.  They may land on your hand, come into your home, or appear closely, right in front of you as if they are communicating.  This is a common type of communication from spirit.  If something like this happens to you, trust that your loved one is with you, and letting you know that they are okay, and that you are not alone.
ABOUT THE PRODUCT
 The LightBox is available in either a 6×6″ or 8×8″.  It is etched on one side with a 20 count string of electric lights inside.  
Each LightBox is personally signed by the artist with the year and her signature smiley face.  If you don't see that, then it isn't an original LightBox!
 A handmade bow (red is default color) tops the LightBox.  Each LightBox is carefully packaged; wrapped in tissue paper then placed in a box and filled with packing peanuts to insure that it arrives to you undamaged.
Should you want a name/date added to the block, please add that in the Personalization box when purchasing. Name/Date will be added to the back of the LightBox.   
Gift-wrapping or Battery-operated lights are available for an additional $2 each.
THE PROCESS
Every Glass Block Light found in my store is made by hand. Meaning, I start with a blank commercial grade glass block. The blocks are etched using a blasting cabinet. Next, using a commercial grade vinyl, your personalized designs  are created by me.  Then they are cut and applied to each block. Bows are created by hand and attached to the top of the 20 count string light set that is placed inside the block.  The lights are easily removed and replaced once they burn out.  You can get them from Walmarts, JoAnn's or Hobby Lobby to name a few places. 
USES
Your handcrafted LightBox is suitable for night lights, night stand lights, table lights, home and office decor or whatever you can think of.
ABOUT THE ARTIST
 The beautiful state of Georgia is where I handcraft your unique LightBox.  I am Janice Lam, an artist that has won Best of Show for some of my creations, and been in Creative Business Maven magazine and on Things that make people go Aww blog.  These LightBoxes have been sold all over the world.
 Don't see exactly what you want?  Email me at lightboxgifts.us@gmail.com and let me custom-design a LightBox especially for you.
  Please join my facebook page LightBoxGiftsLLC  to keep up with the latest news and items available from LightBoxGifts.com