Because someone we love is in Heaven, there's a little bit of Heaven in our home lighted glasss block, 8x4, butterfly, memorial remembrance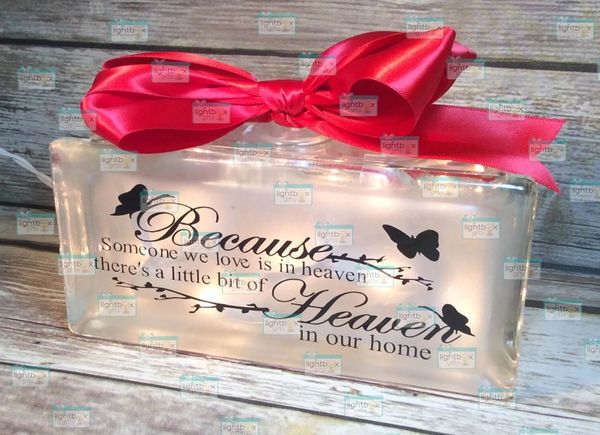 Because someone we love is in Heaven, there's a little bit of Heaven in our home lighted glasss block, 8x4, butterfly, memorial remembrance
A butterfly is a representative of a loved one who has passed. When you see one, it means they are visiting you. They usually show up when you most need them or miss them. They also make an appearance during times of celebration as well as despair to let you know they will always be with you. Look for them, they'll appear.
Bring Love and Life to your home this year with this gorgeous custom Glass Block! I will create for you a glass block with the lovely saying "Because someone we love is in Heaven, there's a little bit of Heaven in our home". Each block will be topped with a ribbon in your color choice. If no choice is put in the notes, then the bow will be red. 
The block is 8x3x4". It is etched on the front and inside is a string of 20 electric lights. It is signed on the back by the artist.
This block is a wonderful way to remember your lost loved ones.  Makes a great gift for anniversary, birthday, Christmas or any time!!