A Limb has fallen from the family tree tile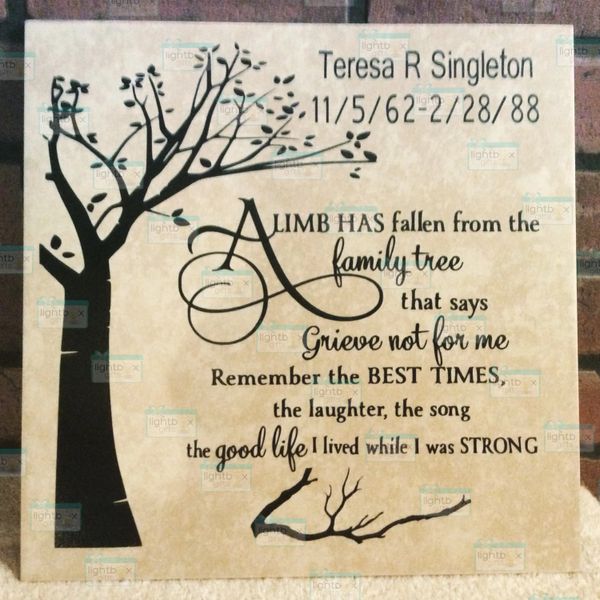 A Limb has fallen from the family tree tile
A Limb has fallen from the family tree that says Grieve not for me  Remember the Best Times, the laughter, the song the good life I lived while I was Strong ceramic tile for table or for hanging on a wall.  The design is done with premium commercial grade vinyl and the back of the tile is covered with felt to protect your surface.
The tile measures 13" x 13" and is about 1/2" thick.  It is a good quality, heavy tile, weighing over 3 lbs.
Please specify the name/dates you wish to put on the block, exactly as you wish them to appear.
ABOUT THE ARTIST
The beautiful state of Georgia is where I handcraft your unique LightBox.  I am Janice Lam, an artist that has won Best of Show for some of my creations, and been in Creative Business Maven magazine and on Things that make people go Aww blog.  These LightBoxes have been sold all over the world.
Don't see exactly what you want?  Email me at lightboxgifts.us@gmail.com and let me custom-design a LightBox especially for you.
  Please join my facebook page LightBoxGiftsLLC  to keep up with the latest news and items available from LightBoxGifts.com